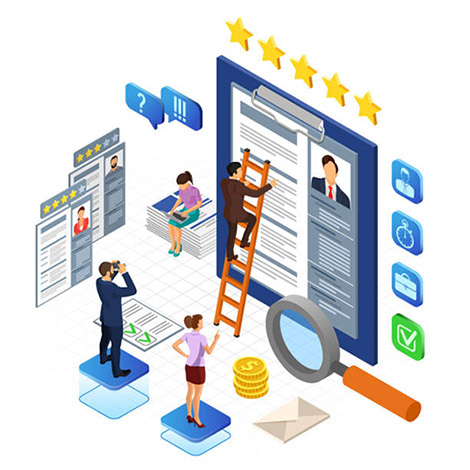 We

combine

our

passion

for

people

with

intelligent

technology

to

convert

their

potential

into

performance.
A specialized team that works enduringly round the clock puts the best applicants into the corporate world's selection arena. Our staffing solutions are unequalled in India since they are tailored to meet your required criteria of applicants while staying inside your budget.
We will assist you with both temporary and permanent staffing needs.
When it comes to hire permanent employees, we let them absorb work culture & environment and it is a serious commitment. We have great technical hiring abilities and can quickly find viable individuals for various open roles that would benefit the company. By finding the most qualified and screened candidates, we manage the entire hiring process, including resume screening, interviewing, background/ reference checks, and so on, saving the organization time and money and making the onboarding process go smoothly.
In RPO, we outsource (in whole or in part) our recruitment function to a third-party specialist in order to increase cost, quality, efficiency, service, and scalability. RPO is progressively gaining traction as the smartest alternative for businesses looking to hire the right people at the right time and at the right price. They are realizing the rewards of delegating the recruitment process to experts while maintaining entire authority over all hiring decisions.
Since we got a foothold in new specialized technologies through technological improvements, particularly in the highly competitive tech sector, we have excelled tremendously in HTD. Where, it becomes much more difficult to attract, keep, and develop resources that bring in the ideas, disruption, and knowledge needed to generate a true competitive advantage, we've established a unique, results-driven, and process-driven training strategy to ensure that your firm receives high-performing, trained, and ready-to-hire employees.
We are honoured to have the opportunity to work with some of the best firms in the industry as part of its clients. We are committed to providing campus recruiting across India by partnering with the greatest technical and professional colleges in the country, bridging the gap between decent and bright students looking for dream employment and employers looking for new and untapped talent.
We are ready to assist you with every step of the Campus Placement process.
Click

here

to

apply

for

job…..